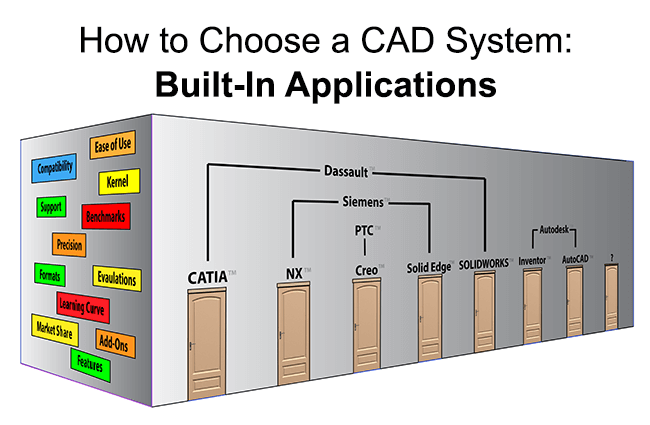 We're reviewing an article written by Stephen Wolfe on How to Choose a CAD System. Since a lot has changed since the article was first published, we're noting what's still of value as well as bringing in new information. For the original article, click here.
Here's Stephen's original list:
Built-in applications that help your business
Pleasant business relationships
Short learning curve
Innovative R&D to protect your investment
A dealer who can help you
Built-in applications that help your business
In the years since Stephen wrote 'How to Choose a CAD System', the high end solutions such as CATIA and NX have grown even more complex and powerful, while the mid-range MCAD solutions have richly increased their capabilities. It's a different world.
Today, virtually all major 3D CAD systems (CATIA, NX, Creo, Solid Edge, SOLIDWORKS, and Inventor):
Allow you to do parametric modeling
Have some sort of direct modeling capability
Have robust a Application Programmer Interface (API), allowing you or third-party vendors to easily write custom applications
Have Product Data Management (PDM) solutions
Support Model Based Definition (MBD) capabilities such as being able to add Product Manufacturing Information (PMI) to models so that information which used to be on drawings now resides on the 3D model itself.
PMI includes Geometric Dimensioning and Tolerancing (GD&T), Dimensions, and Notes. For more on PMI, see this article.
CAD System Applications Overview
CATIA
Let's start with CATIA – Of the six major 3D CAD systems, CATIA and NX are the most high-end, serving the automotive and aerospace industry for decades with their complex surfacing, modeling and engineering capabilities.
CATIA has broad application categories in the areas of products for Mechanical Design, Product Synthesis, Analysis, Shape Design and Styling, Equipment and Systems Engineering, Machining, Infrastructure (PDM) and more.
Drilling down, just in the area of Shape Design and Styling, CATIA has applications to refine complex geometry used in automotive and aerospace design, such as generative shape design, mechanical surface refinement, generative shape optimizer, developed shapes, freestyle shaper, freestyle optimizer, freestyle profiler, freestyle sketch tracer, imagine & shape, Digitized Shape Editor, Quick Surface Reconstruction and Shape Sculptor.
Looking just at CATIA's Mechanical Design capabilities, there are modules for Composites Design, Composites Engineering, Assembly Design, Weld Design, Part Design, Feature Recognition, Molded Parts, Cast and Forged Parts Optimization, Wireframes and Surfaces, Tolerancing and Annotations, Structure Design, Tooling Design, Mold Tooling Design, Core and Cavity Design, Sheetmetal Design and Aerospace Sheet Metal Design, just to name a few!
NX
NX is similarly high-end and rich in applications. Formerly called Unigraphics NX, the product line now goes by Siemens PLM.
On the modeling side, NX offers the ability to work with wireframes, surfaces, solids, parametric and direct modeling all in the same interface.
NX also offers 'convergent modeling' allowing users to work with facet modeling (polygonal models) and Brep models at the same time. Facet models are more efficient for visualization, scanning and 3D printing, whereas Brep models are more ideal for engineering, and Siemens PLM allows the user to see both sets of benefits.
NX is strong in CAM (Computer Aided Manufacturing) and Digital Manufacturing; when I worked for Rolls-Royce Marine in Sweden, we used NX to design and generate NC code for ship propeller blades and water jets. NX gave us the ability to design and machine very organic geometry with a wide range of tools and processes.
NX has simulation and analysis tools for Structural Analysis, Acoustics Analysis, Composites Analysis, Thermal Analysis, Flow Simulation, Motion Analysis, Multiphysics, Engineering Optimimzation which apply to the automotive and aerospace industries among others.
The Siemens PLM HEEDS application allows users direct input and output access to tools such as Abaqus, Excel, NX, LS-DYNA, SOLIDWORKS, Adams, MATLAB, ANSYS, Nastran and STAR-CCM.
Creo
Creo Parametric allows you to do 3D solid modeling, direct modeling, assembly modeling, freestyle surfacing, sheetmetal modeling, analysis, MBD, working with imported Multi-CAD data and numberic control (NC) integration.
PTC's Creo offerings include:
Creo Parametric – Parametric and direct modeling.
Creo Direct – Direct modeling for infrequent users.
Creo Options Modeler – Create multiple configurations with this modeler.
Creo Elements/Direct Modeling – Direct modeling with a simple interface.
There are also Creo extensions for flexible modeling, advanced assemblies, maniken, piping and cabling, fasteners, wire harnesses, surface design, rendering and reverse engineering.
Solid Edge
Solid Edge offers a wide scope of modeling, simulation and manufacturing capabilities.
Solid Edge comes in four versions:
Design and Drafting – parts, assemblies and automated drawings.
Foundation – adds weldments, sheet metal and frame design.
Classic – adds Keyshot rendering, design management and basic FEA simulation.
Premium – adds full FEA, wire harness design and pipe & tube routing.
Solid Edge also provides Reverse Engineering (facets to CAD surfaces), and Synchronous Design (a hybrid of Parametric Modeling and Direct Modeling).
Solid Edge also has basic and advanced CAM solutions, as well as other manufacturing solutions such as 3D Printing, Additive Manufacturing and more.
SOLIDWORKS
SOLIDWORKS is the currently the most popular of the mid-range MCAD systems, and they have a massive array of optional applications.
SOLIDWORKS Simulation Packages include Simulation Premium, Flow Simulation and Plastics
Sustainability (life cycle assessment tools which allow you to search for comparable materials and see how they affect environmental impact).
SOLIDWORKS Electrical Solutions include PCB, Electrical Schematic Standard, Electrical Schematic Professional, Electrical 3D, Electrical Professional and CircuitWorks.
The 3D Experience, a product also available for CATIA, allows companies to see a more complete business picture of their products and opportunities, by providing social media and collaborative tools, model version control and sharing apps, and information and intelligence dashboards. The SOLIDWORKS 3DEXPERIENCE includes the following modules: Conceptual Designer, Industrial Designer, and Platform Contributor for SOLIDWORKS.
Autodesk Inventor
Autodesk Inventor offers Parametric, Direct and Freeform (the ability to mesh and pull on a face to create organic curves) modeling modes.
Inventor also has applications for 3D mechanical design, sheet metal design, electrical systems design and tube and pipe design.
Related Autodesk Products
Autodesk Nastran In-CAD can be run from inside SOLIDWORKS or Inventor: https://www.autodesk.com/products/nastran-in-cad/overview
It is also worth mentioning that Autodesk also has a product called Fusion 360 – a cloud-based mechanical design, simulation and fabrication solution https://www.autodesk.com/products/fusion-360/overview.
TransMagic
While TransMagic is not a full-blown CAD system, not all tasks require a full CAD system; some users in these positions only require being able to view, interrogate, translate, compare or repair cad models. TransMagic is simpler than full-blown CAD systems and thus requires less training, is less expensive, and more tuned to the task at hand.
Estimators: Those tasked with estimating and quote generation usually need to have a true Brep CAD model to gather mass, volume, envelope, dimensions as well as views in order to estimate the cost produce molds or tooling for manufacturing. TransMagic can do all of that and more.
Marketing, Sales and Purchasing: These personnel can also benefit from the ability to view the CAD model, verify the right component was purchased, and measure, interrogate or generate views as necessary.
Managers and IT: TransMagic Batch and COMMAND allow for thousands of files to be translated per hour. Batch lets the user select any number of CAD files for translation and repair in one shot, and COMMAND is an enterprise tool that can streamline automatic translation and repair to entire departments.
Translation & Repairs: If you have issues with CAD files that are poorly modeled or translated, you can rely on TransMagic's automatic repair tools, or the more advanced MagicHeal add on. Need the best possible CAD translation? TransMagic Pro and Expert will translate from any major CAD format into neutral and native formats respectively.
Comparison & Validation: Need to compare two CAD model revisions to see what changed? TransMagic's MagicCheck let's you do that in seconds. Need to validate that geometry has not changed after being translated? MagicCheck letss you do that as well, conforming to Boeing's validation standards.
Check out the TransMagic Product Wizard to get an idea of what tools might streamline your workflow.
Try the TransMagic Eval
If you are not already using TransMagic, you can try the TransMagic eval by clicking here. The eval version includes TransMagic SUPERVIEW along with MagicHeal and MagicCheck. TransMagic SUPERVIEW will allow you to read all CATIA formats.
Alternately, you can discuss your needs with one of our account reps by emailing sales@TransMagic.com, or asking for sales at 1-303-460-1406.