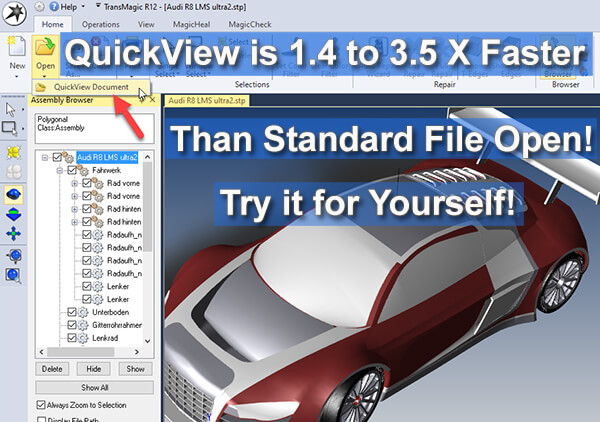 TransMagic's new 'QuickView Document' option lets you open large parts and assemblies significantly faster than the standard 'File Open' – a few times faster, in some cases!
I opened up several different formats at random, including STEP, CATPart, ACIS and Parasolid, and the average improvement for all four formats was over 2x, but your mileage may vary.
Where to Find QuickView Document
If you'd like to see how much faster TransMagic's new QuickView Document feature will open your problematic assemblies, just click the lower portion of the Open button and select 'QuickView Document' as shown in Figure 1.
Though QuickView is a feature planned for TransMagic EXPERT, it is temporarily available on all TransMagic core products (SUPERVIEW, PRO and EXPERT) as 'preview technology'.
Opening Parts with QuickView
When a part is opened in QuickView, you are getting a polygonal, faceted representation – you don't have access to the precise BRep model. You can't change color, dimension, generate mass properties – only view the geometry. If your main objective is simply to see what the part is, that may be all you need.
Opening Assemblies with QuickView
When an assembly is opened using QuickView, you can select a part or subassembly you're interested in via the Assembly Browser, and select 'Open Precise'. The selected part or subassembly will open in another window.
This will give you access to the true BRep geometry, which in turn gives you the ability to dimension, generate mass properties, and all of the other capabilities you normally get with precise, BRep solids. Once you've made the desired changes, you have the option of saving the assembly to the format and/or name you desire.
Insert Back Into Assembly
If you right-click the tab of the part or subassembly which was 'Opened Precise' you will see a grayed-out 'Insert Back Into Assembly'. Insert Back Into Assembly is a capability that works hand-in-hand with 'Open in New Document' functionality; when a CAD assembly is opened using the standard Open, you can select a subassembly or component and 'Open in New Document' in order to work with that geometry separately. Then, when you're finished, you can 'Insert Back Into Assembly'. The 'Insert Back Into Assembly is not yet supported for QuickView assemblies.