By popular demand, this offer is extended to run until June 30, 2020.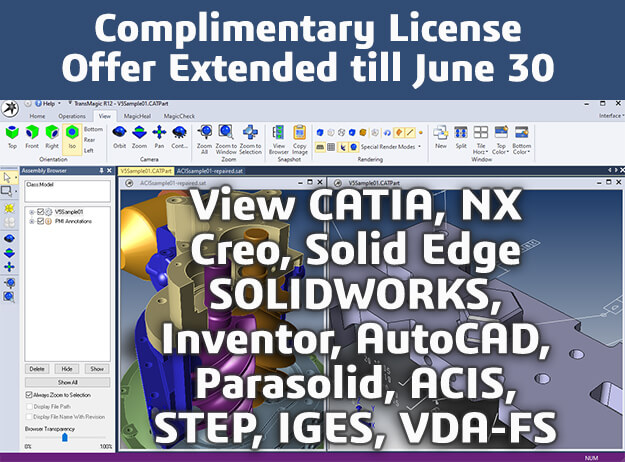 To help small businesses to be more productive during the COVID-19 crisis, TransMagic will be supplying 500 90-day complimentary licenses of our CAD viewing, healing and model validation software on a first come basis.
This software will open all major 3D CAD formats and will be ideal for estimating/quoting, creating technical data packages, and compliance with Boeing D6-5991 specifications.
These licenses will run 90 days. The exact configuration will be SUPERVIEW plus MagicHeal, for repairing geometry and creating water-tight solids, and MagicCheck, for high accuracy comparison between two CAD models.
These free licenses will include output to STL for 3D printing and 3D PDF for sharing design documents.
For technical reasons, this offer is only available to run on machines which have not had TransMagic installed on them before. Read more about this below under Technical Limitations.
Important Links
To request your 90-day CAD Viewing and Quoting License, click here. 
To view the first video tutorial on CAD Viewing with the TransMagic eval, click here.
To view the second video tutorial on CAD Quoting with the TransMagic eval, click here.
Work at Home Licenses: TransMagic staff are working remotely and we will continue to offer 'work from home licenses' to any customers who need them at no charge. We are available to assist the transition to prevent interruption in service.
The 90-Day CAD Viewing and Quoting License Includes
TransMagic SUPERVIEW
READ: Read any major 3D CAD format, including CATIA, NX, Creo, Solid Edge, SOLIDWORKS, Inventor, AutoCAD, JT, Parasolid, STEP and IGES. View and manage PMI.
WRITE: Write to STL, OBJ, STL, 3D PDF and WebGL. STL output optimization and polygon reduction tool. Write PMI to 3D PDF and WebGL for non-CAD project stakeholders. Save out 2D PDF, PNG and other graphics formats.
QUOTE: Measure, dimension, interrogate mass properties, calculate surface area, calculate bounding box XYZ values, measure micrometer thicknesses and calculate edge lengths. Lite Repair stitches surfaces into watertight solids, converts spline geometry into more precise analytic geometry for better downstream functionality, and can serve as a diagnostic tool to analyze geometry issues. See full list of TransMagic SUPERVIEW capabilities here.
Short Tutorial for CAD Viewing with TransMagic SUPERVIEW
The video below shows you how to use some of the basic features of TransMagic SUPERVIEW. More information about this complimentary license, 3D printing toolsets, the option to own the license, technical limitations and what to do if you need CAD output capabilities continues below the video.
3D Printing Toolsets
The COVID-19 crisis has seen many innovations in the area of 3D printed components for respirators, face shields and ventilators. The CAD Viewing & Quoting Kit has the capability to convert CAD models to optimized STL models as well as a built-in Polygon Reduction tool.
Option to Own the License
Flexible purchase or lease options are available. Call 303-460-1406 or email sales@TransMagic.com
Technical Limitations
Due to technical limitations, this offer is only available on computers that have never had TransMagic installed. If you are a former evaluator, we have a solution for you as well, but call us at 303-460-1406, or via sales@TransMagic.com to make arrangements. You can also use this contact information if you have any related questions about this offer.
If You Need CAD Translation Capabilities
TransMagic SUPERVIEW does convert CAD files into 3D polygonal formats, such as STL and 3D PDF, but does not translate from one CAD format to another CAD format. If you need the capability to translate CAD to CAD, please contact us: 1-303-460-1406, or  sales@TransMagic.com.