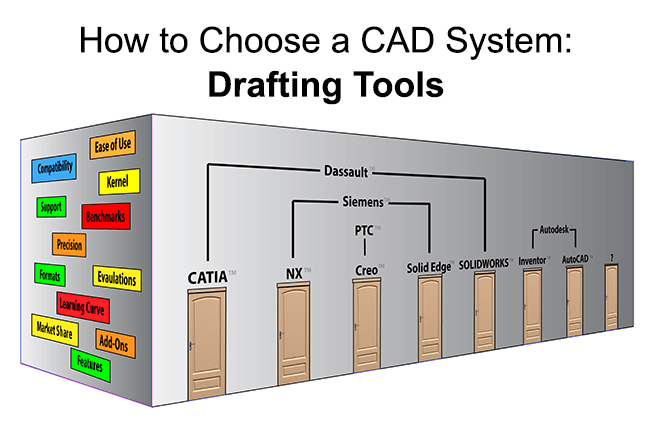 We're reviewing an article written by Stephen Wolfe on How to Choose a CAD System. Since a lot has changed since the article was first published, we're noting what's still of value as well as bringing in new information. For the original article and Stephen's list, click here.
Here's Stephen's original list:
Drafting tools that meet your standards
Built in applications that help your business
Pleasant business relationships
Short learning curve
Innovative R&D to protect your investment
A dealer who can help you
Drafting Tools that Meet Your Standards
Another suggestion Stephen has is to make sure the CAD system has drafting tools that meet your standards. He makes the case that even if your design and engineering team is using 3D CAD, critical dimensions and tolerances, material finishes, etc., are shown in the drawing. Virtually all of the big six CAD systems (CATIA, NX, Creo, Solid Edge, SOLIDWORKS and Inventor) on the market will more-or-less automatically generate drawings from a 3D model and allow you to add GD&T (Geometric Dimensioning and Tolerancing) and other details.
With the advent of MBD (Model Based Definition) and PMI (Production Manufacturing Information) technologies, there is a new shift towards a single environment where the GD&T and materials are applied directly to the 3D model. The 2013 3D Collaboration Interoperability Report found that between 34-63% of respondents created model-based deliverables, and over 75% were contractually required to create model-based work (at least for some of their customers).
Drawings or MBD?
Stephen also states that suppliers and shop floor workers will be needing drawings, suggesting that prospective buyers ensure that the CAD system can save 2D documents to PDF, DXF and DWG formats. While this is certainly true in many cases, it is also true that due to MBD (Model Based Design) initiatives, some organizations are being tasked with going completely paperless; the incentives are many, such as doing away with the chaos of having to manage and update 2D drawings simultaneously with 3D models and trying to avoid discrepancies. Currently it can take engineers at one automotive OEM up to fifteen minutes just to locate the right section sketch out of hundreds on a drawing big enough to cover a wall, so the potential time savings is extraordinary. The other dilemma with drawings is that sometimes the drawing is updated, but the part isn't – or vice versa. Having the same information in two places can lead to complete disaster, where the wrong parts are manufactured. Thus there is strong impetus for companies to press ahead with MBD and MBE (Model Based Engineering) initiatives.
Benefits of PMI and MBD

Here are just a few of the benefits of MBD and PMI.
Quick access to any section in the part or assembly
You longer worry about having duplicate information and making sure they are in sync
You are now able to see dimensions, GD&T and notes in the context of the 3D model
All core TransMagic products allow you to access PMI data so you can visually inspect dimensions, GD&T and notes directly on the 3D model as you rotate it.
For a more complete list, see the article Benefits of PMI and MBD..
To see a 2-minute overview of how TransMagic allows access to PMI and MBD data, check out the following video:
In future articles we will address other items in Stephen's list. Until then, please send comments and questions to social@TransMagic.com.