All design & manufacturing companies have the need to view accurate models and access product information.  Many departments can benefit from the increased data access, and advanced visualization capabilities. CAD viewing often goes hand-in-hand with the need for publishing and polygonal output. All three core TransMagic products (SUPERVIEW, PRO and EXPERT) are capable of opening and viewing all major 3D CAD formats.
Viewing
Engineering and Design departments need to be able to view all major CAD formats along with associated MBD/PMI data.
Capable CAD Viewing tools can in some cases replace full CAD seats, touting more efficient workflows, less need for training and superior cost-efficiency.
Estimating departments need easy access to views of CAD models with manufacturing PMI data in order to generate accurate quotes.
Purchasing departments often need to check that the parts they are ordering will actually fit, and then again check that they received the correct parts.
Publishing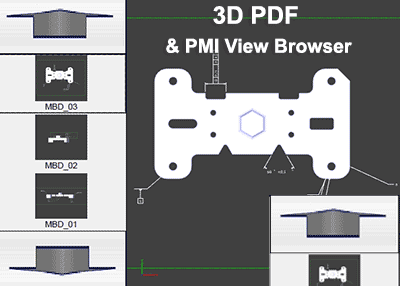 Engineering and Design firms can convert CAD models to 3D PDF for easy viewing by customers, with no CAD system required! Anyone with access to Adobe Acrobat can view, zoom, and rotate 3D models with MBD/PMI data accessible!
Additional files, including native CAD formats, xml files and spreadsheets can be attached to 3D PDFs.
Orthographic views of dimensioned parts are often necessary, saved to 2D PDF with dimension visibility optimized per view.
Technical Data Packages (TDPs) can be created using TransMagic EXPERT. TDPs differ from a standard 3D PDF in that they allow you more control over appearance, and give you the ability to attach additional engineering documents to the 3D PDF file. Learn more about Technical Data Packages.
Polygon Reduction and Optimization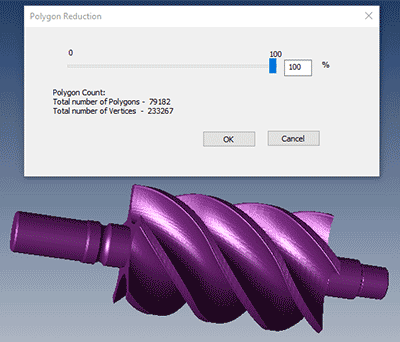 In addition to 3D PDF, virtually all design professions can now make use of polygon reduction and optimization tools to produce STL files for 3D Printing.
Arts & Entertainment users can convert CAD to polygonal formats, reduce and optimize polygons several different ways, and output to formats usable in 3ds Max, Maya, Blender and Cinema 4D.
Parts libraries can use polygonal formats such as Web GL to display 3D, zoomable and rotatable models on the Web.
The Industry Viewing Solution
While all core TransMagic products have the above capabilities, TransMagic SUPERVIEW is the best solution if your needs are focused on CAD viewing and interrogation. SUPERVIEW provides quick and easy visual access to product design data, as well as publishing tools and optimized polygonal output to a wide range of formats. The expansive capabilities of TransMagic SUPERVIEW have been developed over the last 15 years based on feedback and requirements from thousands of customers worldwide. SUPERVIEW can increase productivity in many ways throughout the enterprise and contribute to alignment of company goals from design through manufacturing. In some cases, SUPERVIEW can replace existing CAD seats where users only need the ability to view and interrogate customer models. Learn more about TransMagic SUPERVIEW here.
Request a 7-Day TransMagic Evaluation 
Evaluate TransMagic for 7 days to see how it works with your parts!
Grede Foundries
TransMagic not only saves in time, but in money. We don't have to buy licenses for a lot of different CAD software. We couldn't do the job without TransMagic.
– C. D., Grede Foundries
Stark Manufacturing
It saves a lot of time. I've told my customers, "I'll take any CAD file and I'll make it work" (using TransMagic). TransMagic is a good sales tool for me.
– M. G., Stark Manufacturing
Auto/Con
It works. It is a very decent product. It does everything that others seem to lack.
– J. P., Auto/Con