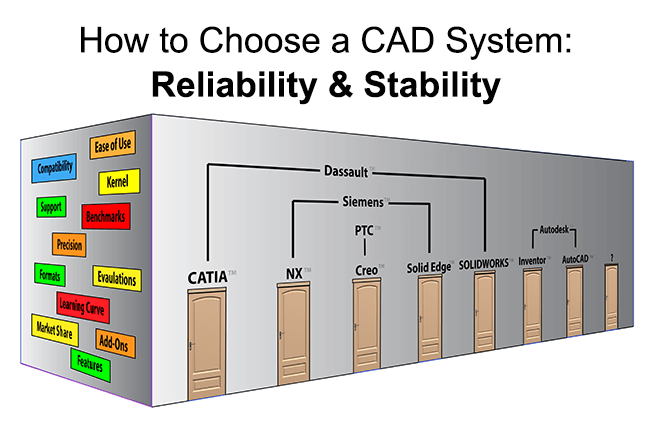 We're reviewing an article written by Stephen Wolfe on How to Choose a CAD System. Since a lot has changed since the article was first published, we're noting what's still of value as well as bringing in new information. For the original article and Stephen's list, click here.
Here's Stephen's original list:
Reliability and stability
Built in applications that help your business
Pleasant business relationships
Short learning curve
Innovative R&D to protect your investment
A dealer who can help you
Reliability and Stability
The main things Stephen focuses on here are that the product you choose be stable, i.e., relatively free of bugs, and capable of handling the kind of geometry you encounter. The other aspect of this is performance; if you have high part counts in your assemblies, or an abundance of complex geometry such as sweeps and blends, you'll want to evaluate for those factors, preferably on a machine identical or similar to the ones you will be using.
There are three CAD assessment options (outlined below) which would enable your team to evaluate each CAD system against your own specific geometry and workflow needs. The other way to assess a CAD system is to study CAD system forums and attend CAD user's groups; this can save you expensive evaluation time or simply alert you for strengths and weaknesses to look for during your evaluation. We've reprinted key assessment strategies below, and added some CAD system forums and user's group links at the end of this article for your convenience.
If the CAD system is weak on translation, repair, revision comparison or geometry validation, consider an add-on such as TransMagic to cover those areas and increase the number of formats you can read and write. The TransMagic product wizard gives a good overview of what a TransMagic add-on can do to augment your CAD system needs.
CAD System Assessment
Assessing via Demo
MCAD resellers for every major CAD system can be found in every major city, and are usually glad to do a standard demo, or a more personalized demo, either at their office or at your office, as a means of making the sale. It may be that the standard demo covers the needs your firm has perfectly, but more likely you will want to give them a part or assembly to model, or ask them to choose a demo that is similar to something you already produce.
Assessing via Benchmark
One way to quickly get to the bottom of what a CAD system can do with your data is to ask for a competitive benchmark. One benchmark that comes to mind involved myself and another application engineer spending 18 hours in a hotel room using Inventor to model parts and assemblies from information on fifty D-size prints we'd taped to the walls. The next day we were sequestered from each other and told to make changes to the geometry, and react to changes the other AE had made. Over the next week, two other CAD vendors attempted the same process, and the data gathered during this study helped the company decide on which system to purchase. The benefit of competitive benchmarks is that you get to throw specific challenging scenarios at skilled application engineers to see if they can come up with a viable solution, sparing your engineering and design teams the time investment of learning the application software; on the other hand, if your team is not intimately familiar with the software you may miss nuances that are important in the decision-making process.
Assessing via Evaluation
More typically, key users within the organization are provided with an evaluation version of the CAD software for at least a few days so that they can test it against their own models and processes in order to assess viability. Most CAD vendors offer an evaluation period; it's up to you as the prospect to negotiate with the vendor or reseller for enough evaluation time to clearly ascertain whether the solution will work for you. At the time of this writing, TransMagic provides prospective users access to a fully functional version of SuperView for 7 days; evaluations of Pro or Expert for longer time periods are available by contacting our office.
CAD System Forums and Resources
CATIA Resources:
Design World CATIA Forum: http://www.3dcadforums.com/forums/10-CATIA-Forum
Community of CATIA Experts: http://www.coe.org/p/fo/et/topic=109
Eng Tips CATIA Forum: http://www.eng-tips.com/threadminder.cfm?pid=560
CATIA Community: http://www.catiacommunity.com/
Official CATIA Users Groups: https://www.3ds.com/products-services/catia/social/communities/

NX Resources:
Eng Tips NX Forum: http://www.eng-tips.com/threadminder.cfm?pid=561
Siemens' Official Forum: https://community.plm.automation.siemens.com/
Siemens' General Forum: http://siemensnx.com/
Creo Resources:
Official PTC Creo Forum: https://www.ptcusercommunity.com/community/creo
Independent Creo Forum: http://www.mcadcentral.com/forums/59-Creo-User-Forum-Topics
Creo Regional User's Groups: http://portal.ptcuser.org/p/cm/ld/fid=246
Another Creo User's Group Network: http://www.creocommunity.com/connectusergroup.php
Solid Edge Resources:
Official Siemens' Solid Edge forum: https://community.plm.automation.siemens.com/t5/Solid-Edge-User-Community/ct-p/solid-edge
Official Solid Edge User's Groups: https://www.plm.automation.siemens.com/en_us/about_us/user_groups/
SOLIDWORKS Resources:
Dassault's Official Forum: https://forum.solidworks.com/
Another Dassault Solidworks Forum: http://my.solidworks.com/forums
Solidworks Legion: http://www.fcsuper.com/swblog/
Eng Tips Solidworks Forum: http://www.eng-tips.com/threadminder.cfm?pid=559
Solidworks User's Groups: http://www.swugn.org/
If you have an interest in improving SOLIDWORKS performance, check out this article.
Autodesk Inventor Resources:
Official Autodesk Inventor Forum: https://forums.autodesk.com/t5/inventor-forum/bd-p/78
Eng Tips Inventor Forum: http://www.eng-tips.com/threadminder.cfm?pid=790
Autodesk Inventor User's Groups: https://www.augi.com/local-user-groups/list (since this list is not logically sorted by geography, it may be best to use the 'search' feature and plug in the state or country you're in and see what groups are available).
If you know of other resources such as forums, user's groups, or performance articles for any of the major CAD systems, please let us know at social@TransMagic.com and we will update this article.