The Most Powerful CAD Translation Software In The World
TransMagic
World-Class 3D CAD Translation, Repair and Comparison
---
With TransMagic You Can…
Open, view and query any major 3D CAD format in the world
Translate CAD models to polygonal, neutral and native formats
Automatic repair capabilities to deliver a water tight solid
Publish 3D PDF with PMI views intact for easy, clean communications
Compare revisions so you know exactly what changed before you cut steel
Automate translation and repair of thousands of files at a time
---
FREE 7-DAY EVALUATION
Test-Drive TransMagic for 7 days to see how it works with your parts! The following products are included in the evaluation:
TransMagic SUPERVIEW
TransMagic MagicHeal
TransMagic MagicCheck
Video Overview of our Latest Release
CAD Viewing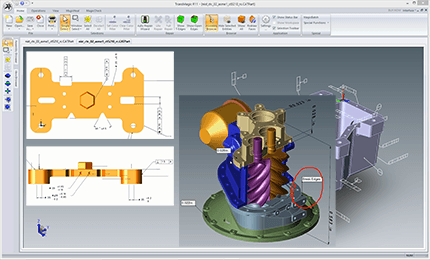 View CAD B-rep or Vis-rep files, measure, dimension, interrogate mass properties, surface area, volume and read MBD / PMI data for estimation. Reduce, optimize and write polygonal formats. SUPERVIEW does all this and more.
CAD Translation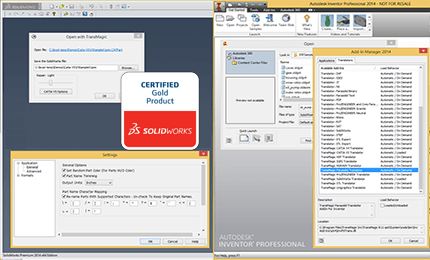 Translate from CAD native and neutral files to native and neutral format such as CATIA, JT, STEP, Parasolid, ACIS and more. TransMagic Expert has all of the viewing power of SUPERVIEW and the ability to write neutral and native CAD formats.
CAD Repair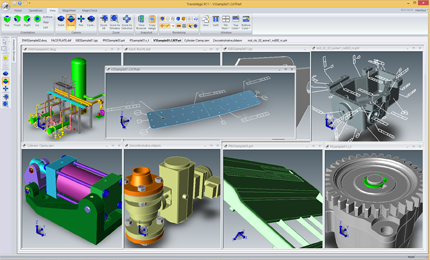 Lite Repair is built in with all TransMagic core products, but MagicHeal gives you Full Repair (extends surfaces to close gaps) and Magic Surface (replaces missing faces), taking care of those more demanding repair situations.
CAD Comparison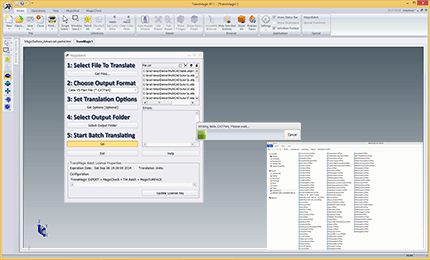 When a customer submits a revision, how can you be sure of what has changed? MagicCheck lets you know quickly and easily what changed, where it changed, and how much it changed, helping you to prevent downstream manufacturing errors and reduce scrap parts.
CAD Automation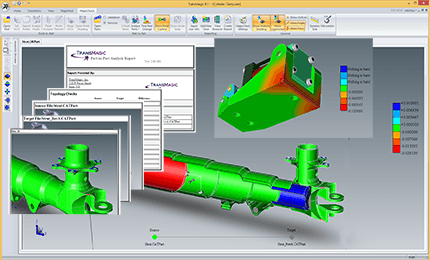 Whether you want to batch translate thousands of files at a time with MagicBatch, or set up automated systems to translate all files into multiple formats simultaneously with COMMAND, TransMagic has your solution.
Robotics Automation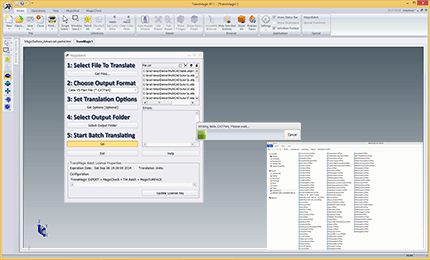 WorkCell 4D reduces the time required to select and export Work Cell components for more efficient and safe assembly line production.
Detroit Automotive Technology Examiner
Until a single CAD system does arrive for the auto industry, suppliers who have to work in this multi-CAD environment now have an interesting, intermediate option; a literal ace in their pocket besides the usual translators like IGES and STEP. It's called TransMagic!
– Frank Sherosky, Detroit Automotive Technology Examiner
GM Creative Services
TransMagic solved the UG/Parasolid/ACIS nightmare. We work in Inventor and Rhino and were having a tough time getting accurate data from our clients using UG-NX. TransMagic has allowed us to import all of the Parasolid and IGES files and convert them to ACIS for use in Inventor. It has paid for itself in a month.
– J. M., GM Creative Services
PPL Engineering
Just a quick e-mail to say how pleased we are with TransMagic. After using it now for a few months the difference in being able to use the solid models is wonderful.
– B. C., PPL Engineering