TransMagic Blog
The TransMagic blog focuses on material to make you more productive with TransMagic and your other tools and procedures.
Blog List and Blog Index
If you can't find the blog you're looking for, please check out our Blog List, which lists out each blog by title in chronological order, or try our Blog Index, which sorts blogs based on subject category. 
If there's a topic you'd like to see here, let us know! Reach us at social@transmagic.com.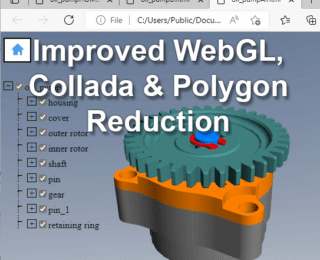 New WebGL Capabilities The latest TransMagic build (12.31.400) has both a home button and an assembly tree display to improve viewing and CAD data access in a browser. The image at right was captured from Google Chrome, but any HTML5 browser will support the WebGL...
read more
Request a 7-Day TransMagic Evaluation 
Evaluate TransMagic for 7 days to see how it works with your parts!