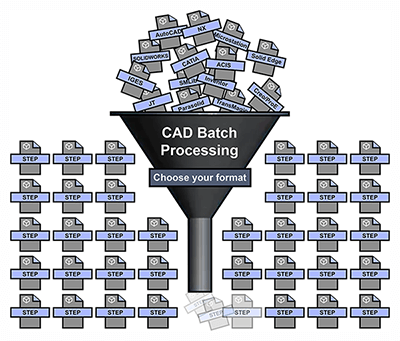 The entire history of CAD is based on automation; computers made creating and editing 2D drawings faster, ultimately leading to intuitive 3D modeling and automatic drawing view creation.
But no matter how fast and intuitive our CAD systems get, users still get tied up doing tedious CAD translation and repair work.
CAD automation enables users to automate translation and repair processes without having to open or view the files graphically.
Literally thousands of files can be processed automatically at one time, breaking through CAD data bottlenecks in engineering and design departments.
Batch Translation and Repair to Any Format
Batch Translation saves individual users the hassle of settings adjustments and file manipulations, enabling entire departments to get the data they need to get their work done. Dozens or hundreds of files can be translated from any major 3D format into the desired format in minutes.
Automatic Translation and Repair to Multiple Formats
Automatic Translation takes Batch Translation to the next level; files are simultaneously translated into multiple formats of your choice simply by dropping them into the correct folder. With automatic translation, using TransMagic COMMAND, there is almost no time delay between submitting work and receiving finished translations to the folder of your choice. Additionally created data can include views of geometry, visual representations of geometry, xml output of mass properties, PMI and much more.
The Industry CAD Automation Solutions – MagicBatch and COMMAND
TransMagic MagicBatch is the solution for batch translation and repair, ideal for individual users who translate many files on a regular basis. TransMagic COMMAND is the highly customizable enterprise solution for automatic translation and repair; one seat of COMMAND can serve the needs of entire design and engineering departments, making the frustration and lost time associated with translation and repair a thing of the past. Find out more about TransMagic MagicBatch and TransMagic COMMAND to break open your file translation bottlenecks.
Detroit Automotive Technology Examiner
Until a single CAD system does arrive for the auto industry, suppliers who have to work in this multi-CAD environment now have an interesting, intermediate option; a literal ace in their pocket besides the usual translators like IGES and STEP. It's called TransMagic!
– Frank Sherosky, Detroit Automotive Technology Examiner
Grede Foundries
TransMagic not only saves in time, but in money. We don't have to buy licenses for a lot of different CAD software. We couldn't do the job without TransMagic.
– C. D., Grede Foundries
KUKA
It's a one stop shop translator & it dumps into anything!
– C. C., KUKA
Request a 7-Day TransMagic Evaluation

 
Evaluate TransMagic for 7 days to see how it works with your parts!
Grede Foundries
TransMagic not only saves in time, but in money. We don't have to buy licenses for a lot of different CAD software. We couldn't do the job without TransMagic.
– C. D., Grede Foundries
KUKA
It's a one stop shop translator & it dumps into anything!
– C. C., KUKA
Detroit Automotive Technology Examiner
Until a single CAD system does arrive for the auto industry, suppliers who have to work in this multi-CAD environment now have an interesting, intermediate option; a literal ace in their pocket besides the usual translators like IGES and STEP. It's called TransMagic!
– Frank Sherosky, Detroit Automotive Technology Examiner