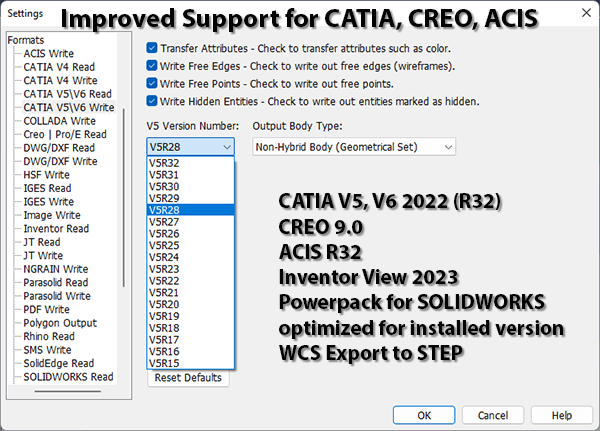 The latest build of TransMagic, 12.31.300, includes the ability to read and write to CATIA V5 2022 (R32) and CATIA V6 2022 (R32), Creo 9.0, and ACIS 2022 (R32).
There is also support for Inventor View 2023, which leverages the ability to read Inventor 2023 files.
Also new in the .300 build is the ability to export WCS entities in STEP, and COMMAND access to Include Body Edges with the [no]ineb option.
IF you are running the Powerpack for Inventor add-on, there is an edit you will need to make to your registry in order to use the add-on work with Inventor 2022 or 2023, since Autodesk is now making all of their add-on "registry free". Our development team will provide a workaround-free solution in the R14 timeframe, but for now, the workaround can be found on our support portal here: Running Powerpack for Inventor with Inventor 2022 or 2023 – TransMagic Support Center
For installation instructions and where to find the latest build (12.31.300 in this case), please visit the 'Installing TransMagic R12' page.  
For other recent improvements, please see TransMagic R12 Enhancements.