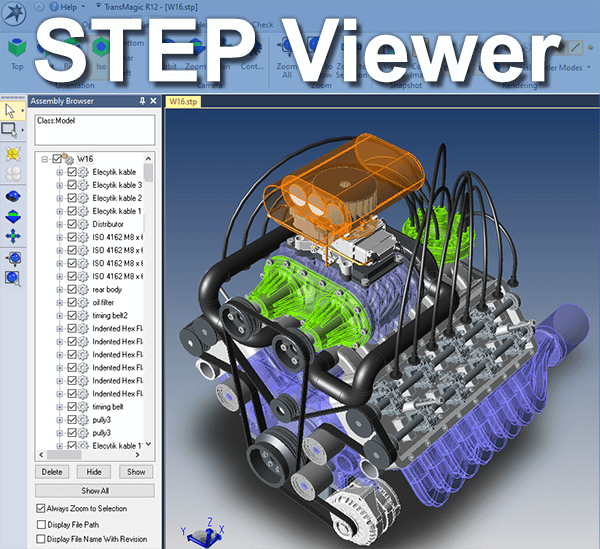 STEP Viewers can view STEP files which can have the .stp and .step file extensions.
Viewing Tasks
TransMagic's STEP Viewer will view all types of STEP files, including STEP AP 203, 214 and 242, and can also perform the following tasks:
View, zoom, pan, rotate
Change color, transparency
Measure, dimension, markup
Calculate mass properties, surface area, bounding box
Show, hide, manage layers
Cut sections, create ortho views
View PMI, write model and PMI out to 3D PDF
SUPERVIEW Viewer
TransMagic's primary viewing product is called SUPERVIEW, and it can also read CATIA, NX, Creo, SOLIDWORKS, Solid Edge, Inventor, AutoCAD, IGES, Parasolid, ACIS and other CAD formats.
If you need to write CAD formats you may want to look at the capabilities of TransMagic PRO and TransMagic EXPERT.
Quality STEP Translations
By virtue of viewing the STEP file, TransMagic is also translating the STEP file. Unlike the translators for geometric modeling kernels, there is a lot of latitude in how a STEP translator can be built. Not all translators are created equal, and oftentimes the STEP translators built into CAD applications are not the highest quality. Some STEP translators take all geometry and try to convert it to splines rather than using analytical geometry such as conics, planes, tori and cylinders, which are more easily understood by downstream applications such as machining.
Native CAD Formats are Better than STEP
While TransMagic's STEP viewer will give you the best possible results for viewing STEP geometry, we always recommend that you try to get CAD geometry in the native format when possible for the absolute best results. This means that if your customer uses CATIA, try and get the data in the CATPart or CATProduct format if possible – especially if you are running into problems with geometry quality.
Geometric Modeling Kernel Formats
If you can't get the geometry in the native CAD format, the second-best format for reading CAD geometry is the geometric modeling kernel; if the original geometry was created on NX or SOLIDWORKS, this would mean getting the geometry in the Parasolid format, since both NX and SOLIDWORKS native formats are based upon the Parasolid geometric modeling kernel.
It is not always possible to get the native or kernel formats, and that's where STEP comes in. STEP is a truly neutral CAD format that is still in development, and performance is far superior to IGES.
Test Drive TransMagic
You can test drive TransMagic SUPERVIEW, along with MagicHeal and MagicCheck Add-Ons for 7 days at no cost – just click this link to get to the free eval. If you need to be able to write CAD formats to do a proper eval, let us know at sales@TransMagic.com.
STEP File Credit
The 16-cylinder engine STEP file shown at top of this article is shown courtesy of Mei Rezki Rosi Pratama. See more of Mei's work on his GrabCAD page.