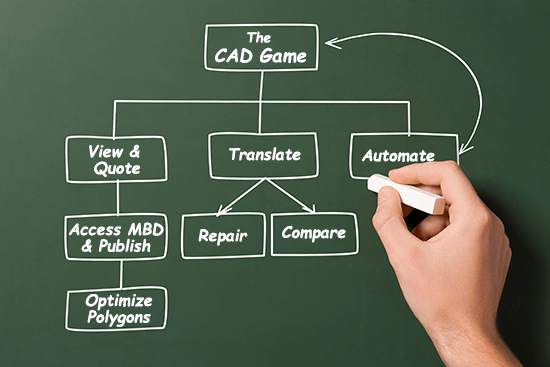 Many users of TransMagic purchase the software to simply translate from one format to another. This article points out 7 ways to improve your CAD game by digging deeper into TransMagic.
View and Quote
All many users need to do is open a customer CAD file and develop a quote for developing molds, tooling, machining, or some other service. Often, companies are using full CAD seats for viewing and quoting. TransMagic opens more formats and has a simpler, faster interface for viewing and quoting.
Every core TransMagic product will open up 3D geometry from any major CAD system. Quickly add dimensions and notes, assign materials and generate mass properties for volume, weight and centroid. Easily generate surface area calculations, thickness measurements and part envelopes for estimating and quoting purposes. Seamlessly communicate with the ability to extract part or property information to XML. Getting data and working with the "true" CAD model was never so simple.
Access 3D MBD Data & Publish
More and more, you need access to MBD / PMI data on 3D models. With TransMagic, you have the ability to import semantic, associative PMI data in supported formats such as CATIA, UG/NX, and Creo. Save geometric PMI data (lines and arcs) to any CAD format (even including formats like STEP and IGES that do not typically support PMI). Capture PMI views directly into Excel or output the PMI data to XML or 2D/3D PDFs. Capture and save custom views for reports and estimates. Create part libraries with the new WebGL format.
Optimize Polygonal Models
The Polygon Reduction tool and other polygonal output settings can help you generate the exact mesh density you need, where you need it. Whether you are using it to create that perfect STL 3D printed part, or converting a CAD file into an OBJ or Collada format for 3ds Max, Maya, Cinema 4D or VR, TransMagic has you covered.
Convert & Translate CAD
Today, many applications can convert CAD files. However, TransMagic is different because it is purpose-built for translation. By licensing the translation kernels from the major CAD vendors, there is no reverse engineering or guesswork required. Better 3D CAD translation means less repair and remodeling work. The fact is: not all translators are created equal. This is especially important because bad CAD conversion will hit you twice — once on the way in and once on the way out. The quality of the translation will determine how much confusion and model repair work follows; don't let the hidden costs of bad translation eat you alive.
3D CAD Geometry Repair
Everyone wants a watertight solid model! (Learn More: "Leaky" CAD Models? Six Reasons Watertight Models Matter.) This single requirement, watertight solid models, can mean hours of manual CAD repair and remodeling of poorly modeled or translated CAD data. Every day, we hear of users' struggles to get customer data into a usable state and format so they can get their work done. At TransMagic, we believe that using CAD models should be easy! With our automatic repair tools and easy-to-use interface, you can quickly and easily diagnose CAD model "health" and repair corrupt geometry.
Compare & Validate CAD
The fact of design is there are changes throughout the lifecycle. TransMagic's MagicCheck add-on allows you to easily compare different revisions of a CAD file to see what's changed, where it changed, and how much it changed. In addition to comparison, MagicCheck also enables validation of CAD translation and point-to-part analysis so both your engineers and customers can be confident of the translation quality. And now in R12, you have your option of a split-view or single overlaid view comparison, as well as the ability to output reports to the secure PDF format.
Automate
CAD is already by definition an automated process – but if you need to translate thousands of files at one time, TransMagic's MagicBatch add-on provides batch processing that executes with one-click. Eliminate the need to translate/repair one file at a time; batch process thousands of files automatically and unmanned!
Product-specific capabilities include:
All Core TransMagic products (SuperView, PRO and EXPERT) support viewing, quoting, MBD / PMI and polygonal output.
TransMagic PRO and EXPERT additionally allow conversion to CAD formats.
The MagicHeal add-on includes advanced CAD model repair tools not found in core products.
The MagicCheck add-on includes comparison and validation features.
The MagicBatch add-on includes BATCH functionality to automatically process thousands of CAD files automatically.