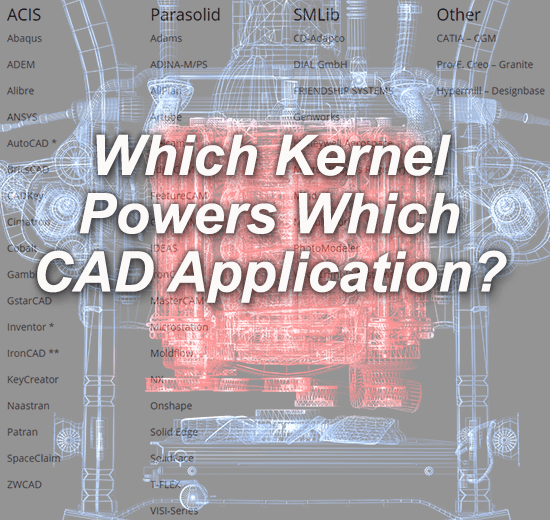 Since Geometric Modeling Kernels are a more precise format than STEP (and will often provide a superior translation) this listing will help you find which geometric modeling kernel powers are best for the CAD application you are working with.
If you don't have the ability to write the native CAD format, write to the geometric modeling kernel which powers the CAD application; geometric modeling kernels are more precisely written than neutral CAD formats, and give you the best chance of getting the cleanest, most accurate CAD geometry.
For further information on when to use which CAD format (native, kernel or neutral), please see the CAD Format Ladder article.
Alphabetical breakdown of which Geometric Modeling Kernel powers which CAD-related applications.
Abaqus
ADEM
Alibre
ANSYS
AutoCAD *
BricsCAD
CADKey
Cimatron
Cobalt
Gambit
GstarCAD
Inventor *
IronCAD **
KeyCreator
Naastran
Patran
SpaceClaim
TransMagic ***
ZWCAD
Adams
ADINA-M/PS
AllPlan
Artube
Delcam
EdgeCAM
FeatureCAM
GibbsCAM
IDEAS
IronCAD **
MasterCAM
Microstation
Moldflow
NX
Onshape
Solid Edge
SolidFace
T-FLEX
TransMagic***
VISI-Series
CD-Adapco
DIAL GmbH
FRIENDSHIP SYSTEMS
Genworks
Honeywell Aerospace
Martec (Lloyd's Register)
Mind
ModuleWorks
PhotoModeler
TransMagic***
Vico (Trimble Systems)
CATIA – CGM
Pro/E, Creo – Granite
Hypermill – Designbase
TransMagic – CGM***
All TransMagic core products (SUPERVIEW, PRO and EXPERT) will read ACIS, Parasolid, SMLib and CGM kernels. EXPERT writes all of these kernels, and PRO writes all but CGM, since it is a native kernel format. See complete list of CAD and polygonal formats supported by TransMagic applications.
* AutoCAD and Autodesk Inventor are based on the ShapeManager kernel, which forked from ACIS version 7 in 2001. If you need to save an ACIS file that is compatible with Autodesk products, setting ACIS version to 7 should bring good results.
** IronCAD gives users the option of both the ACIS and Parasolid kernels.
*** TransMagic makes use of ACIS, Parasolid, SMLib, CGM and other kernels to provide optimal translations of CAD data. 
CAD-Related Applications, Market and Kernel Used
Abaqus – FEA – ACIS
Adams – Multibody Dynamics – Parasolid
ADEM – CAD System – ACIS
ADINA M/PS – CFD, Thermal and Structural Analysis – Parsolid
Alibre – CAD System – ACIS
AllPlan – BIM, Precast, Rebar, Construction – Parasolid
Altair Hyperworks -Simulation – Parasolid
ANSYS – FEA – ACIS
Artube – Tubular Design – Parasolid
AutoCAD – CAD System – ShapeManager
BricsCAD – CAD System – ACIS
CADKEY – CAD System – ACIS
CATIA – CAD System – CGM
CD-Adapco – CFD – SMLib
Cimatron – Mold Design – ACIS
Cobalt – CAD System (Ashlar Vellum) – ACIS
Delcam – CAD/CAM – Parasolid
DIAL GmbH – Lighting Design – SMLib
EdgeCAM – CAD/CAM – Parasolid
FeatureCAM – CAD/CAM – Parasolid
FRIENDSHIP SYSTEMS – CFD – SMLib
Gambit – CFD – ACIS
Genworks – 3D CAD Web-Based Modeling Language – SMLib
GibbsCAM – CAD/CAM – Parasolid
GstarCAD – CAD System for MFG, AEC – ACIS
Honeywell Aerospace – Manufacturer/Developer – SMLib
Hypermill – CADCAM – Designbase
IDEAS – CAD/CAM – Parasolid
Inventor – CAD/CAM – ACIS
IronCAD – CAD System – ACIS and Parasolid
KeyCreator – CAD System – ACIS
Martec (Lloye's Register) – Manufacturer/Developer – SMLib
Mastercam – CAD/CAM – Parasolid
Microstation – CAD/CAM – Parasolid
Mind – CAD/CAM Cutting Systems – SMLib
ModuleWorks GmbH – CAD/CAM – SMLib
Moldflow – Mold Design – Parasolid
Naastran – FEA – ACIS
NX – CAD System – Parasolid
Onshape – CAD System (Cloud-Based) – Parasolid
Patran – FEA – ACIS
PhotoModeler – CAD System (Photogrammatic Measuring) – SMLib
Pro/E, Creo – CAD System – Granite
Solid Edge – CAD System – Parasolid
SolidFace – CAD System (Cloud-Based) – Parasolid
SOLIDWORKS – CAD System – Parasolid
SpaceClaim – CAD System – ACIS
T-FLEX – CAD System – Parasolid
TransMagic – CAD Data Interoperability – ACIS, Parasolid, SMLib, CGM +
Vico (Trimble Systems ) – BIM – SMLib
VISI-Series – CAD/CAM – Parasolid
ZWCAD – CAD System – ACIS