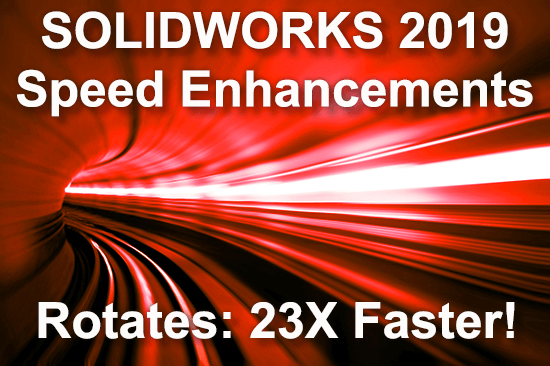 There are many SOLIDWORKS 2019 speed enhancements, but the most noteworthy is that a 26x speed increase in complex part viewport rotation, measured in frames per second (FPS); specifically, SOLIDWORKS 2018 tested at 4.9 FPS, whereas SOLIDWORKS 2019 tested at 129 FPS!
Faster with nVIDIA and AMD cards
In this test by Alin Vargatu and Alen Topic, performance was achieved using an nVIDIA Quadro P4000 card, in OpenGL with RealView and Shadows off. For other settings on the nVIDIA card (Shadows On, RealView on, etc.), the improvements were still 23+ times faster than in SOLIDWORKS 2018, and if we look at the same settings for the AMD Radeon Pro WX 7100 card, again SOLIDWORKS 2019 boasted between 13 and 17 times faster viewport rotation results as compared to SOLIDWORKS 2018.
Taking Advantage of Video Game Techniques
What could be the reason for these speed increases? Besides an ongoing code rewrite which began in 2015 and continues today, the Graphics R&D team at SOLIDWORKS has been working with graphics providers nVIDIA and AMD to take advantage of techniques developed primarily from optimizing for video game performance.
Three Performance Tests
Overall, three tests were performed comparing SOLIDWORKS 2019 to SOLIDWORKS 2018, using both video cards. These tests included the SOLIDWORKS Performance Test, a Large Assembly Graphics Performance test, and Complex Part Performance Test. The Large Assembly Graphics and the Complex Part Performance tests specifically looked at viewport rotation performance.
Check the Enable Performance Pipeline box
To enable the SOLIDWORKS 2019 Performance Pipeline, under System Options – Performance, check the box Enable performance pipeline (Beta functionality, requires SOLIDWORKS restart).
Video of Performance
To see the performance of SOLIDWORKS 2019 side-by-side against SOLIDWORKS 2018, check out this video. SOLIDWORKS 2019 gives you zoom, rotate and pan performance for large assemblies similar to what you'd expect with Large Assembly mode turned on, but without the graphics quality loss associated with Large Assembly Mode.
In fact, in this CATI test, a 4500-part assembly in SOLIDWORKS 2018 rotated at 17 FPS with Large Assembly Mode turned on, but when the same assembly was rotated in SOLIDWORKS 2019, it rotated at 26 FPS, with Large Assembly Mode turned off!
See the Complete Test
Alin & Alen ran quite an exhaustive test comparing SOLIDWORKS 2018 to 2019, using a test machine that sported an AMD Radeon Pro WX7100 vs the nVIDIA Quadro P4000, in the areas of graphics, rendering and RealView, using large assemblies, complex parts and more. Learn more about SOLIDWORKS 2019 graphics performance and see their complete test results here.
Some users have tried to reproduce these results and have run into minor bugs that will likely be fixed in SP1 – until then, to learn the workarounds, check out this thread on the SOLIDWORKS forum.
PowerPack for SOLIDWORKS = More Productivity
SOLIDWORKS users can gain even more productivity by using the PowerPack for SOLIDWORKS, which enables you to access additional CAD model repair tools and translation formats from within the SOLIDWORKS interface. These additional options can make a critical difference if your standard repair and translation tools fall short. Learn more about the PowerPack for SOLIDWORKS here.
Related articles:
More Formats for SOLIDWORKS users
Optimizing SOLIDWORKS Performance