TransMagic Blog
The TransMagic blog focuses on material to make you more productive with TransMagic and your other tools and procedures.
Blog List and Blog Index
If you can't find the blog you're looking for, please check out our Blog List, which lists out each blog by title in chronological order, or try our Blog Index, which sorts blogs based on subject category. 
If there's a topic you'd like to see here, let us know! Reach us at social@transmagic.com.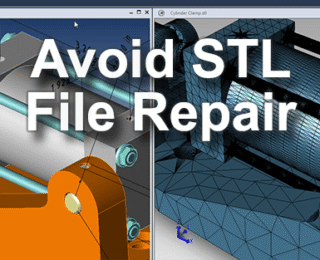 While there are various ways to perform STL repair, it's best to avoid it in the first place if you can. If you are starting with a CAD file, that's where the diagnostic and repair process should start, before intelligent geometry is degraded into non-intelligent STL...
read more
7-DAY SUPERVIEW + MagicCheck + MagicHeal Evaluation 
Evaluate TransMagic for 7 days to see how it works with your parts! The following product is included in the evaluation:
TransMagic SUPERVIEW
MagicCheck
MagicHeal