Westminster, CO (

PRWEB.com

) August 31, 2017
TransMagic Announces Non-Manifold Capability to Benefit Manufacturing Companies by Detecting & Correcting Non-Manufacturable Conditions Sooner
---
When designing and manufacturing complex products, the first sign of a non-manifold condition often occurs when moving 3D models between CAD systems or into CAM software. TransMagic can detect and correct non-manifold conditions to prevent costly delays in time-to-market.
TransMagic Inc., the leader in 3D geometry translation, repair and comparison tools for CAD, CAM, CAE systems, announces a new feature in their suite of tools for CAD model repair. This new feature will detect and correct non-manifold conditions and aids customers to verify manufacturability, thereby saving time and money.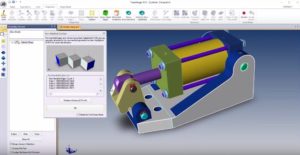 The non-manifold condition typically becomes an issue when 3D CAD models are passed from one organization to another. For instance, a tier 2 automotive supplier passes a design to a tier 3 supplier for manufacturing. The more complex a part is, the more likely a non-manifold condition will arise. The model may appear sound to the tier 2 supplier in the native CAD system, yet when the tier 3 company opens the design the non-manifold part could explode into possibly hundreds or thousands of surface bodies. The tier 3 is faced with the dilemma to fix it themselves (which could take hours or even days) or go back to the tier 2 for a revision. The non-manifold condition can result in lost time for both the tier 2 and tier 3 suppliers. Also, the tier 2 can lose confidence in their supplier. For this reason, often the tier 3s will just do the extra work without notifying the tier 2 supplier.
Some CAD systems will allow a non-manifold part to be created; these systems include CATIA, Autodesk Inventor, Creo, and others. With these systems, it is possible for a CAD user to create a part that is not manufacturable due to a non-manifold condition. A non-manifold condition can occur inadvertently from operations such as Booleans, blending, sweeping, lofting, shelling, etc. The non-manifold condition can easily go undetected. TransMagic's new Non-Manifold Detect & Correct capability provides a solution for validating 3D models and when needed, identifying and fixing non-manifold conditions.
"Non-Manifold Detect & Correct is a quick way to ensure that a part is ready for manufacturing, regardless of its complexity," said Craig Dennis, CTO of TransMagic. "Using TransMagic, the process is simple. The entire CAD assembly, with all of its parts, can be analyzed with the click of a single button. This feature is particularly helpful for vetting models received from external sources. After detection and visualization of the problem, TransMagic can automatically correct these conditions with another click of a button." Click here for a short video demonstration of the feature.
TransMagic detects, highlights and resolves non-manifold conditions, turning what could have been a painful and time-consuming manual process to obtain usable 'solid' models into a quick and painless click of a button. Non-Manifold Detect and Correct is part of the MagicHeal suite of CAD productivity tools from TransMagic. To receive a free working trial version, visit https://transmagic.com.
ABOUT 
Founded in 2001, TransMagic develops multi-CAD interoperability software applications that offer a unique combination of 3D CAD file translation, 3D model comparison, geometry repair, collaboration and viewing technologies to alleviate the CAD incompatibility and product data exchange challenges facing the manufacturing industry. Any company that handles 3D file formats for mechanical CAD (MCAD), Computer Aided Engineering (CAE) or Computer Aided Manufacturing (CAM), can benefit from TransMagic's suite of tools.
Visit our blog on this and other topics for increasing the productivity and product quality for companies in the manufacturing industry that utilize 3D modeling.