TransMagic Solves Problems for Organizations that Work with Heterogenous CAD Model Formats
and Managing Extremely Large Model Sizes
Lessons learned from The Danse, a digital arts company, that can benefit any product development team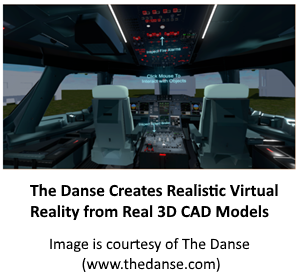 The Danse is an engineering company, but they do not manufacture a product you can put your hands on…they create digital reality. To create the digital reality, they often use 3D mechanical CAD tools and thus face the same problems any engineering/manufacturing company does with the underlying 3D data – from problems with geometry to challenges with massive file sizes. The Danse strives to make the 3D virtual world as realistic to real life as is possible and practical. Digital representations
are becoming more realistic and technically accurate throughout the video game, animation and entertainment industries. Compare the first Microsoft's Forza Motorsport game to Forza Motorsport 6; the cars are more realistic and accurate than ever.
DIGITAL, A REALITY
How does one achieve "reality" for these 3D digital applications? In many cases, 3D engineering CAD models are utilized in the 3D virtual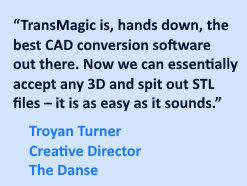 world created with industrial strength 3D CAD systems like SOLIDWORKS®. These models represent the actual "blueprints" utilized for design and manufacturing in the tangible form. However, these CAD models are created by engineers and purposed for various manufacturing processes. Re-purposing those designs to create realistic art for animation, entertainment, and artistic applications is a combination of artistic ability and technical prowess.
Powerful technology. Real solutions. Real problems. The Danse (www.thedanse.com), established in 1999, provides cost effective simulations and animations used in virtual reality solutions, gaming, 3D animation, cloud-based learning, gamification, mobile learning, and analytics. With the requirement to replicate real life environments and scenarios, The Danse needs to be able to import 3D models from essentially any 3D CAD vendor, just like traditional engineering/manufacturing companies do when working with external data.
THE PROBLEM
When importing 3D CAD models, The Danse has encountered many problems that other users of 3D CAD face. 3D CAD translation, repair, and model optimization are critical to using the 3D engineering model in the 3D virtual world. Now, using TransMagic, they can quickly and easily get the model into the right format, address any issues or repairs in the model, and optimize the model for the intended use.
THE SOLUTION


The Danse now relies on TransMagic (www.TransMagic.com) to translate, repair and optimize their 3D models. With a comprehensive list of import options, The Danse can now accept any 3D model format and convert them to their preferred format, STL. In their business, working with many suppliers, they are faced with working with lots of different CAD formats. In the past, they just requested neutral STEP or IGES. That worked, but it is far from optimal, introducing more work and quality issues downstream. Now The Danse can accept any 3D model format, even the native, proprietary CAD format their supplier uses (and without regard to versions). Complete with optimization options, the models can be controlled regarding their scale, faceting, dimensions and more. "Using powerful, cost-effective technologies allow us to better serve our clients and create superior solutions," says Troyan Turner, Creative Director at The Danse, "TransMagic is, hands down, the best CAD conversion software out there. Now we can essentially accept any 3D and spit out STL files – it is as easy as it sounds."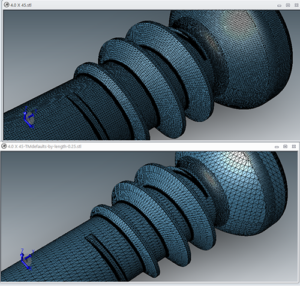 In 3D animation specifically, the faceting of a model is critical. If the facets are too big, they become visible in the animation (see the examples). However, overly dense facet meshes can increase the size of the file, exponentially, making it difficult to open and work within other applications. It is a constant tradeoff. Many design departments must deal with gigabyte-sized models by breaking them down into subassemblies because many applications choke on large files. The Danse does not have that option – they need to work with the entire model containing all the parts. With TransMagic that is not a problem.  TransMagic and The Danse teams worked together to optimize the faceting of particularly difficult STL files. The faceted STL models are just one choice of output from TransMagic. The result: highly optimized faceted models with a manageable file size.
FINITE ELEMENT ANALYSIS
Finite element analysis (FEA) is a computerized method for predicting how a product reacts to real-world forces, vibration, heat, fluid flow, and other physical effects. Since The Danse does not manufacture a product, they do not require FEA. However, for companies that do manufacture products, they will often use FEA for virtual testing. The same process that The Danse uses for their "digital manufacturing" can be used by traditional product companies as a pre-process to meshing for FEA. To obtain good results with FEA, it is crucial that the underlying CAD geometry be sound. TransMagic prepares models by tightening tolerances, connecting surfaces, and fixing geometry errors so that the meshing operation will run smoothly. In addition, meshing can fail hours into the process if there are geometry errors; with TransMagic, that can be avoided.
3D POWER TOOLS
"Our mission is to enable any user who needs to use 3D data to do so easily and to insure the underlying geometry is sound. We create power tools for managing and using 3D CAD model data, that can be used with virtually any 3D CAD system," states Todd Reade, CEO and president of TransMagic, Inc. "Most of our customers create physical products but the digital only needs of companies in Digital Arts, like The Danse, are very similar. The Danse is pushing the envelope in the digital only world and we are pleased to be a part of their solution set."
ABOUT 
Founded in 2001, TransMagic develops multi-CAD interoperability software applications that offer a unique combination of 3D CAD file translation, 3D model comparison, geometry repair, collaboration and viewing technologies to alleviate the CAD incompatibility and product data exchange challenges facing the manufacturing industry. Any company that handles 3D file formats for mechanical CAD (MCAD), Computer Aided Engineering (CAE) or Computer Aided Manufacturing (CAM), can benefit from TransMagic's suite of tools.
Be sure to visit our blog for other company stories and helpful information for managing and using 3D CAD model data files.