What's in the SuperView eval? Many people think that the TransMagic Superview eval must be some kind of limited version of TransMagic, but the standard SuperView eval is exactly the same as the one our customers use; it's just limited to 7 days of use.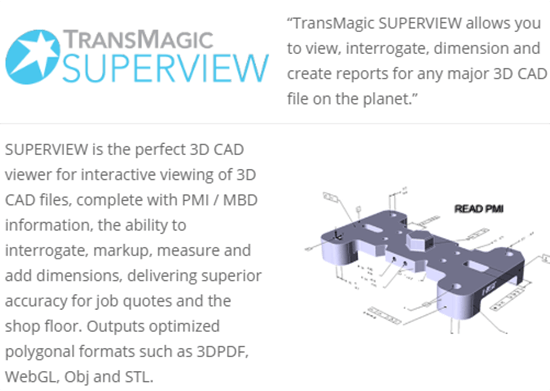 Overview
In the SuperView eval you get all of the normal features of Superview, as well as two add-ons: MagicHeal and MagicCheck.
Superview
CAD Viewing
Open and view any major 3D CAD format, including CATIA V4, V5, V6, JT, NX, Creo, SOLIDWORKS, Solid Edge, Inventor, ACIS, Parasolid, SMS, STEP and IGES, as well as NGRAIN and numerous polygonal formats. See a complete list of TransMagic's supported formats here.
Quoting and Estimating
Many use SuperView to measure and dimension CAD geometry for quotes and estimates. In addition to dimensioning for measurement and documentation, there is a micrometer tool, area calculations, mass properties calculations (including center of gravity and volume), the ability to change materials, and bounding box generation to define the part limits in X, Y and Z.
CAD to Polygonal Translation
Polygonal formats are perfect for visualization, use in modeling and animation applications, and for 3D printing. Optimize and save your CAD model out to polygonal formats such as 3D PDF, WebGL, STL, Collada or Obj. You can also save out image files such as 2D PDF, Tif and Png.
This post explains how to save your CAD PMI model to 3D PDF with PMI intact; this can be a great collaboration tool because anyone who has the Acrobat Reader (which is almost everyone) can view 3D PDFs.
Lite Repair
SuperView comes with Lite Repair, which will attempt to stitch any surfaces into watertight solids. Lite Repair is a single button click which can also be launched via the Auto Repair Wizard (ARW). Learn more about Lite Repair here.
MagicHeal
MagicHeal increases your repair capabilities from Lite Repair to Full Repair and MagicSurf. Full Repair picks up where Lite Repair left off, fixing more complex issues like inverted vertices. MagicSurf gives you the ability to automatically or manually replace damaged or missing faces.
MagicCheck
MagicCheck has three modes, which are detailed below.
Part to Part Revision Analysis:
Part to part revision analysis will test the original part against a revised part, highlighting areas that are outside of the specified tolerance.
Part to Part Validation:
Part to part validation checks to see if the original 'authority' part is within a specified tolerance of the 'check' part. This is usually done as a quality control procedure in accordance with standards such as Boeing spec D6-51991 or Aerospace Standard AS9100. A part is acquired from the manufacturer, translated to STEP or some other format for downstream design or manufacturing purposes, and the manufacturer naturally requires the original part and the derived part to be compared to make sure they are a specific tolerance. If the parts are within tolerance, MagicCheck lets you know; if not, a heat map highlights outlying areas, and a report can be generated.
Point to Part:
Point to part analysis compares a list of X Y Z points generated by CMM or scanning software with the CAD Authority Model to see where the manufacturing process has compromised part geometry; this feedback can be used to tweak the model or the manufacturing process to get the desired result.
To see some examples of what you can do with the SuperView eval, check out the Quick Start videos on our Support page.
If you need the ability to write to CAD formats in order to properly evaluate TransMagic, let us know at the start of your evaluation period; evaluations of TransMagic PRO and EXPERT are available.