TransMagic Makes CAD Data Conversion Smooth Sailing for Naval Defense Contractor using SOLIDWORKS & CATIA
TransMagic's automated 3D CAD conversion software cuts project time by 50%
SUMMARY

Defense contractor produces surface warfare package for the Navy.

This project required thousands of 3D models to be converted from SOLIDWORKS to CATIA.

Using a combination of SOLIDWORKS, CATIA and TransMagic software, the contractor team cut the data conversion and repair time in half and preserved the data integrity.
In a perfect world, all data would conform precisely to standards, and every software solution would speak every others' language. In the real world, however, data sharing is fraught with potentially time-consuming pitfalls. This is particularly true when it comes to 3D CAD.
No one understands this better than the naval defense contractor, which is a leading global aerospace and defense technology company with employees in 50 states and 25+ countries. The contractor provides innovative systems and services for aerospace, shipbuilding, and technology customers around the world. The contractor often grapples with these data compatibility challenges between 3D data formats.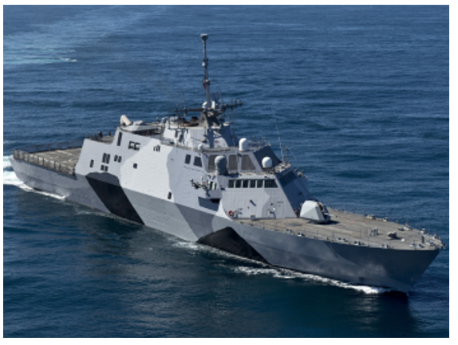 Special Package for the Navy
The team supports the development and manufacture of the modular weapons systems for the US Department of Defense. 
The Challenge: Data Compatibility Between CATIA® and SOLIDWORKS®
The modular weapons systems package is standardized on CATIA software. They receive the computer-aided design (CAD) data packages in SOLIDWORKS format, which is not compatible with CATIA. To manage this data, they needed a proven reliable way to convert the Navy's SOLIDWORKS data into the CATIA format they use.
The Conventional Method of Translating 3D CAD Data Was Manual:
1) Open each SOLIDWORKS file one by one
2) Save each file in the industry neutral STEP format
3) Import each STEP file into CATIA
4) Save each file in the CATIA format
What gets 'lost in translation' with this manual method? This multi-step, manual translation approach tends to introduce a host of problems. Possible errors include differences in dimensions and features, the loss of mass properties and parametric capabilities, and the inadvertent conversion of the solid model into a surface model.
There were thousands and thousands of files that needed to be converted. With the number of models that needed to be converted, and the manual rework that would have been required to get 'watertight' solid models, the conversion of the data package alone was shaping up to be a two-year project.
The Solution: Automated Data Conversion with TransMagic
The naval defense contractor began searching for a better way to handle the data conversion. The team was considering possible solutions to automate the translation process. They did a thorough cost-benefit analysis and selected TransMagic software based on the powerful capabilities it provides at an affordable cost. TransMagic creates power tools for converting and validating 3D geometry which are powerful and easy-to-use, and ensures compatibility with the target software, CATIA. The translation tools in TransMagic solve a wide range of the 3D CAD data exchange problems facing the manufacturing industry. TransMagic enables the quick reuse of 3D CAD data from virtually any source into any target application.
The TransMagic Expert plus the BATCH automation package provides complete support for ALL major 3D design files, including CATIA and SOLIDWORKS. It is ideal for manufacturing companies working in multi-CAD environments.
The Results: Conversion Time Cut in Half! One Year Saved!
"Having TransMagic makes a big difference in my work," says the customer. "I can open any SOLIDWORKS file directly in TransMagic, TransMagic knows it is reading SOLIDWORKS, and I can then save the file to our CATIA format. Though not often necessary, when required, TransMagic automatically repairs more than 9 out of 10 issues during the translation process. What isn't automatically repaired is a simple 'manual' process in TransMagic, a couple of easy decisions and clicks. The converted models were valid and included the original design intent and the parts list from CATIA, which was lost with the previously used manual multi-step process using STEP as the intermediate format. Compared with the multi-step translation approach, TransMagic is cutting our conversion time in half or more. That means without it, a year-long job would take two. That, along with the additional software features, has made it a real program asset."
About the Winning Product Configuration:
Every license of TransMagic Expert includes their PowerPack for SOLIDWORKS plug-in. The plug-in brings many of TransMagic's capabilities into the SOLIDWORKS interface, creating a single window unified environment. The TransMagic PowerPack for SOLIDWORKS is a SOLIDWORKS Certified Gold Product, meaning it offers single window integration with SOLIDWORKS, providing seamless data exchange functionality that gets continual testing to ensure compatibility with all versions of SOLIDWORKS.
TransMagic gives this customer the flexibility to manually select any single part from the CAD assembly, and open, extract or export it to another format. For automation, the TransMagic BATCH Add-on enables the customer to load an unlimited number of CAD files of mixed formats, and just click on the desired output format. Then they can walk away or go home and let TransMagic do the difficult work, saving hours or weeks of tedious manual work. The PowerPack for SOLIDWORKS converts parts directly, meaning the user can use TransMagic to import/export directly with confidence.
"Being able to directly export different configurations is nice. We do not have to do extra translations, which helps to cut our conversion time in half, too," says the customer. "Overall, TransMagic is a definite time saver for us. It would have been extremely cumbersome to do a multi-step conversion for each of these thousands of parts. Time and productivity are of course important to us as a business, but are even more important for the sailors anticipating these great new systems at sea. TransMagic is helping us get there."
Visit the TransMagic blog for more customer stories and productivity tips for managing 3D CAD data.
Want to try for yourself? Request a free 7-day trial.
ABOUT TransMagic
Founded in 2001, TransMagic develops easy-to-use power tools for 3D CAD data. TransMagic supports all major formats, both proprietary and open standards like STEP and IGES. Companies of all sizes use TransMagic to translate, compare, validate, repair, mock-up, and view 3D model data from virtually any CAD system. Any company that handles 3D file formats for Mechanical CAD (MCAD), Computer Aided Engineering (CAE) or Computer Aided Manufacturing (CAM), can benefit from TransMagic's suite of tools. Visit Transmagic.com for more information and to get a free 7-day trial.