Convert TO & FROM 48 different 3D CAD formats; including:
Proprietary/licensed Formats — CATIA, Inventor, NX, SolidEdge, SOLIDWORKS, …
Kernel Formats — ACIS, Parasolids, …
Open Standards — IGES, JT, STEP, …
Documentation and Graphics — 3D PDF, Collada, Web GL, …
TransMagic licenses formats directly from their owner, so you can rest assured you will have a quality 3D CAD conversion.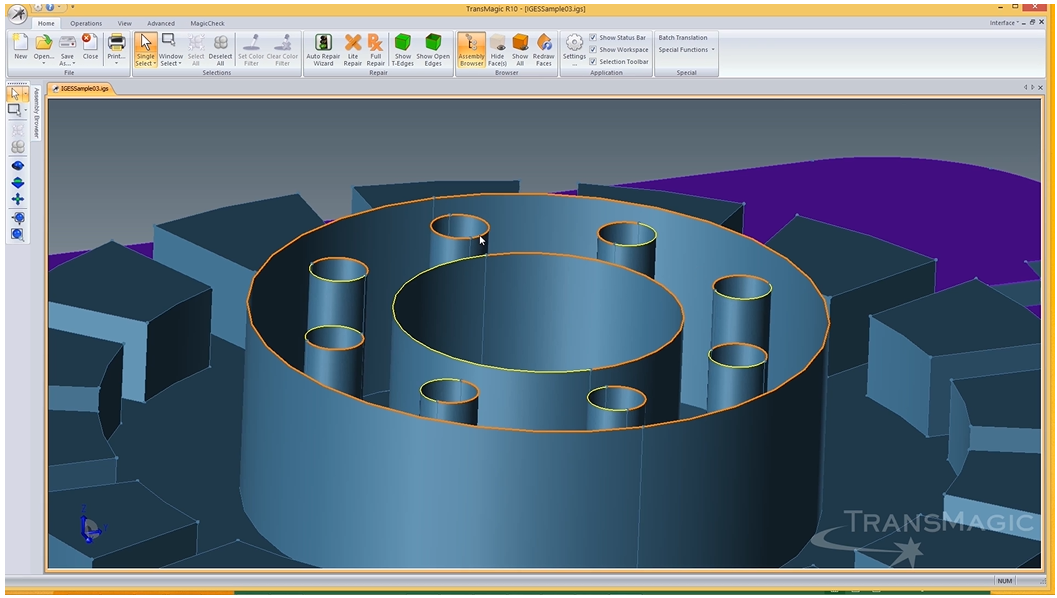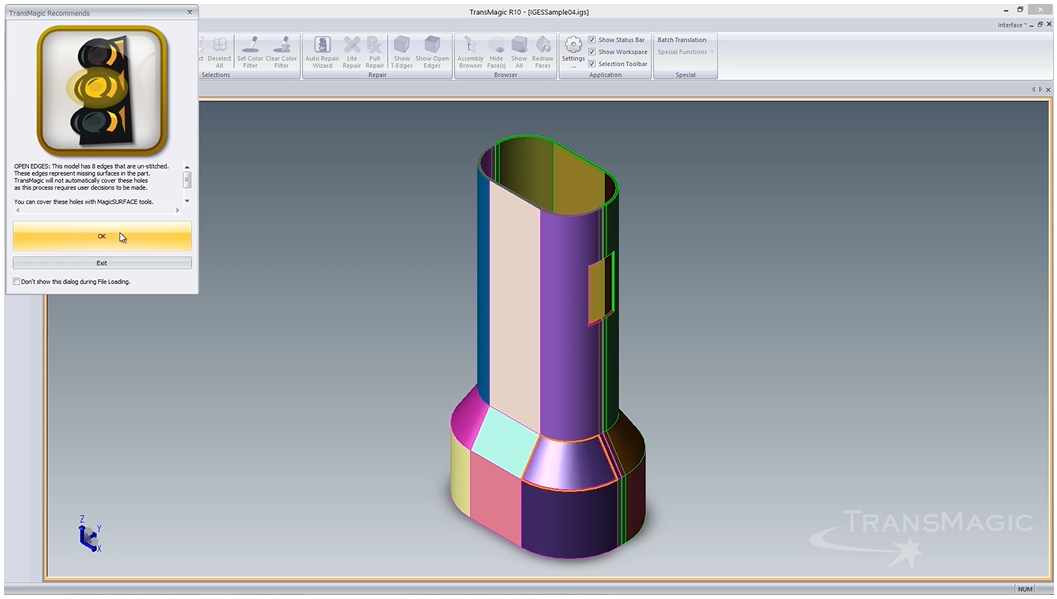 3D Model Validation
Before you start working on a 3D file, make sure it is valid. All surfaces are joined, it is "watertight" and non-manifold conditions do not exist.
3D Model Repair
If there is a problem, TransMagic will graphically show you the defects in the geometry.  And, guess what? You don't have to be a CAD jockey to understand the feedback.
3D Model Mock-Up
TransMagic allows you to easily combine 3D CAD models into a single instance. Because translation is our middle name (well, actually our first), you can easily combine models from different formats.
3D Model Viewing
Yes, we do that too. Including PMI and MBD.
Collaboration
TransMagic has powerful annotation tools that are attached to the 3D model.  In addition, we support Model-Based Definition (MBD).
Grede Foundries
TransMagic not only saves in time, but in money. We don't have to buy licenses for a lot of different CAD software. We couldn't do the job without TransMagic.
– C. D.
GM Creative Services
TransMagic solved the UG/Parasolid/ACIS nightmare. We work in Inventor and Rhino and were having a tough time getting accurate data from our clients using UG-NX. TransMagic has allowed us to import all of the Parasolid and IGES files and convert them to ACIS for use in Inventor. It has paid for itself in a month.
– J. M.
Detroit Automotive Technology Examiner
Until a single CAD system does arrive for the auto industry, suppliers who have to work in this multi-CAD environment now have an interesting, intermediate option; a literal ace in their pocket besides the usual translators like IGES and STEP. It's called TransMagic!
– F. S.
TRY IT FOR YOURSELF
No CAD license or expertise required
Download your FREE 7-Day Trial & Receive Daily On-Boarding Lessons
Translate – Validate – Diagnose – Repair ANY 3D CAD File
Extend the Use of Your 3D Models
Advanced Geometry Repair – Quickly & Easily
MBE – The Easy Way: For New Adopters or Veterans
Selecting the Best 3D CAD Format for Exchange –TransMagic Offers Lots of Choices
Model Comparison – Know What Has Changed Without a Doubt
TransMagic Tips & Tricks for Increased Productivity
Please complete this form. You will receive an email with download instructions.